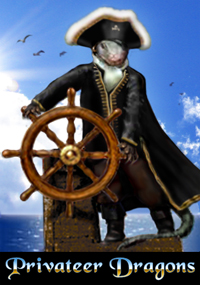 Avast, me hearties! Are ye a wayward soul in need of mirth and merriment? Then ye be fortunate indeed by happenin' upon our port o' call referred to by pirates as Privateer Dragons' Island, land of adventure. We be the good-natured Privateers Dragons of the Caribbean, Laktos the Intolerable
and Inga Cuckoo, who travel the seven seas in search of pirate festivals and renaissance faires.
If ye be ready for adventure, set sail with our mateys aboard our square-rigger the Morning Star. We be headin' for the nearest renaissance faire for shore leave. Once we dock, ye'll be meetin' all sorts of pirates and scurvy dogs. Though some be heavily armed, ye needn't be afeared. Just find the nearest pub and offer 'em a cold brew.
Ahoy! Start yer tour of the island here

Hammond, LA


Nov 5-Dec 11, 2016 Louisiana Renaissance Festival


Take heed: Contact event planners to confirm faire dates before travelin' to faire. Ye wouldn't want to show up in costume with no festivities to enjoy!
Privateer Dragons' Secrets

So ye wants to be a privateer but aren't sure where to start? Find help below for starters:

Privateers' advice on havin' Fun
Learn pirate songs
Peruse the pirate dictionary
Read pirate history
Get a pirate name
Shop for pirate weapons
Find pirate books
Read the pirate bulletin boards
Find pirate clothes
Take the pirate test
Learn pirate phrases
See famous pirate art
Laktos the Intolerable's Author Page

Festival Photos
Morning Star Maiden Voyage: May 20, 2003